DECORATIVE CONCRETE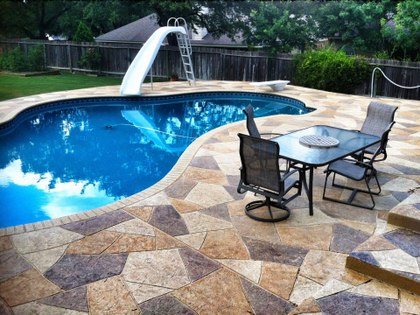 If the concrete surfaces in your property are all ugly and worn-out, fret not. It can be transformed into works of art that everyone can truly enjoy for a long time. How? Decorative concrete coatings and overlays can be installed on patios, pool decks, driveways, walkways, front entryways, and more. They all work in both commercial and residential settings, some can be used on both indoor and outdoor surfaces.
Decorative concrete resurfacing was developed several decades ago. The invention of the concrete overlays in the late 30s and the development of colors and textures in the 50s jump-started what would be the most popular option today. These are trending nowadays because of the wide range of designs available, how durable it is, and how affordable it is compared to traditional concrete repair options. Property owners are now more confident in enhancing and improving their concrete floors and outdoor surfaces, worrying less about cost and installation time.
Decorative Resurfacing and Refinishing Options
Concrete is such an amazing material because it is durable and highly versatile. In fact, it can be damaged and worn-out but still absolutely repairable. But if the damage is deep and extensive, re-pouring would be the most appropriate solution. For repairable damage, property owners can choose from the following decorative concrete applications:
Call us at (317) 854-4529 for more information on how you can know about decorative concrete solutions.
More and more people are seeing concrete as a very practical and decorative choice. The demand for ornate but affordable options in the Indianapolis, IN area is so high nowadays. Indianapolis Concrete Artisans is a decorative concrete contractor in Indianapolis which offers a wide range of options for resurfacing slabs, both indoor and out.
Enhance the look of any concrete surface you have at an affordable cost. Call or email us today for a FREE consultation and quote.
We are ready to make that perfect concrete surface that will change your life forever