CONCRETE REPAIR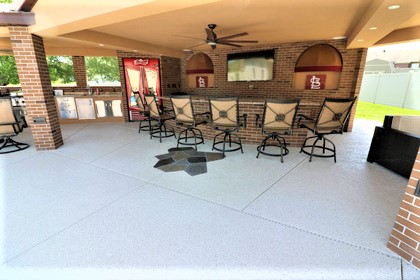 Concrete damage is caused by a lot of things. It could be defects that root back to improper pouring or sub-grade preparation, something related to deterioration from old age, or something in between. The result can be as alarming as cracks, holes, or spalling or something superficial like unpleasant stains and concrete discoloration. Whatever the issue, a reliable fix must be applied to keep the damage from getting worse.
In the past, concrete removal and a replacement was the only reliable solution. Fortunately, that has been changed, thanks to innovative pool deck, driveway, garage floor and patio repair and refinishing options in the remodeling industry. There is a wide array of decorative concrete applications that can repair and address issues, all meeting industry standards and providing appealing results at affordable rates. These provide efficient fixes without scarring and the results are long-lasting.
Benefits of Repairing Concrete
While some people would rather redo the entire flooring and get rid of the damaged concrete once and for all, some just cannot afford that option. Aside from costs, there are more reasons why a repair is a highly recommended option:
Sustainability – Nowadays, it is far more important to make greener choices; repairing existing concrete instead of completely redoing the floor is definitely an eco-friendly solution that benefits both you and the environment. Concrete pool deck repair in Indianapolis, IN reduces the carbon footprint caused by cement production.
Time-Saving – The amount of time needed to complete a repair project is almost equal to the amount of time needed to just remove an old slab of concrete flooring. So, imagine how much longer it would take to re-pour and cure completely new flooring.
Design Options – There is a wide range of design and color options available for concrete resurfacing or refinishing slabs.
Ways to Repair Concrete Pool Decks, Patios, Driveways, and more.
The construction and remodeling industry nowadays makes use of innovative products, tools, equipment, and techniques for proper patio, pool deck and driveway repair and garage flooring. There is the golden rule, however, that if the damage is too deep and too extensive, replacing the slab is a more logical option. Your contractor should know which option makes the most sense for you. But for repairable damage, here are ideal ways to restore concrete and make it better:
Resurfacing – This is the process of giving an old slab a new surface. The old slab is retained, topped off with an overlay or coating, and then customized to the property owner's preferences. The most popular resurfacing methods are stamped overlay, spray texture, and epoxy flooring.
Refinishing – For slabs with zero surface damage, changing the finish or adding one can immediately boost its appeal and extend its lifespan. Popular refinishing applications are concrete staining and resealing.
Call at (317) 854-4529 to learn more about concrete repair options to suit your desired design.
Indianapolis Concrete Artisans is a decorative concrete company that provides repair solutions that combine form and function on patios, pool decks, driveways, and more. Indianapolis concrete repair contractor has highly a trained team that values attention to detail and effective customer communication. We partner with our customers so that we can help them re-imagine and reshape their concrete surfaces to create better-looking and functional spaces.
Call or email us today. From style options to concerns about budget, let us assist you through a free consultation. We also give free quotes.
We are ready to make that perfect concrete surface that will change your life forever