CONCRETE FLOORS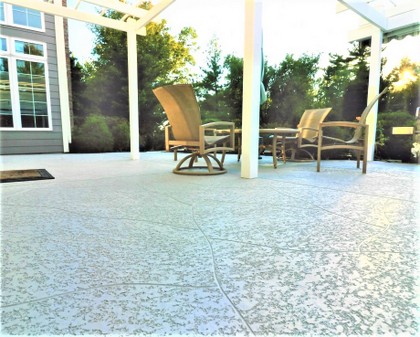 While discovering damage on outdoor concrete is inevitable, finding them indoors can freak owners out. It can be unsafe and unappealing. Of course, there is the option to cover it up with a wall-to-wall carpet treatment, hardwood boards, or floor tile. Gorgeous? Yes. Functional? Of course. Economical? Not really. Easy to clean and maintain? Definitely not. If you are after practical options, decorative concrete coatings and overlays can provide more benefits despite the minimal cost.
Interior floors are exposed to fewer damaging elements but could still acquire cracks, dents, or ugly stains. Old age and foot traffic can also cause unpleasant issues. Whatever it is, there is a solution for it. Resurfacing or refinishing interior floors can immediately enhance its look and function without breaking the bank.
Interior Floor Resurfacing and Refinishing Option
Resurfacing or refinishing indoor concrete floors are more economical options whether it is for concrete floor repair or upgrade purposes. These exude great function and form, offering a broad range of color and pattern choices that owners would surely love. Here are the top coatings and overlays concrete ideal for use indoors:
Stained Concrete – Stained concrete floor is great for masking an ugly stain, concrete discoloration, or for simply changing the color of concrete from the utilitarian gray that it normally is to a more vibrant hue. Acid stains are reactive stains available in various earth colors that cause random effects and color tones caused by chemical reactions. Water-based stains come in a wider range of colors, including pastels, but does not involve any chemical reactions, thus, causing more uniform looks and colors.
Epoxy Flooring – This is a two-part coating that is often used on garage and basement floors. It is a combination of epoxy resin and polyamine hardener that when mixed, applied, and cured, becomes a super tough material resistant to most types of damage. The result is a seamless, virtually indestructible metallic epoxy floor that can endure impact, abrasion, scratches, chemical spills, heavy traffic, and more.
Polyurea Polyaspartic Coating – Similar to epoxy coating, this two-part material is also one tough coating for resurfacing concrete floors. It is originally used for industrial and commercial floors but is now available for residential homes. This fast-drying material can be installed in one day and be ready for use the next.
Acquire the floors of your dreams. Call (317) 854-4529 for interior floor solutions.
People feel safer and more comfortable indoors. But with ugly and damaged concrete floors, it can be quite the opposite. Indianapolis Concrete Artisans, a concrete floor polishing contractor Indianapolis, wants to restore concrete interior floors and recreate them into perfect surfaces at a fraction of the cost of traditional, high-end materials. We have over 20 years of experience in resurfacing and refinishing concrete floors, both indoors and out.
Want luxurious floors with easy upkeep and low costs? Call us today to schedule a free consultation and quote.
FEATURED PROJECT
We are ready to make that perfect concrete surface that will change your life forever